Achievement in Academics
Academic Offerings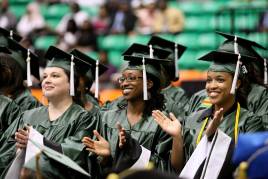 Florida A&M University Department of Music offers an impressive series of programs for undergraduate study, with the perfect combination of access to a diverse university setting and specialized music training. Our curricula combine tradition with innovation and are designed to offer students the flexibility to reach a variety of professional goals.
Bachelor of Arts/Bachelor of Science in Music
The BA/BS in Music is a degree which allows for more extensive study in general education and related fields. The Bachelor of Arts is the degree of choice for students who wish to emphasize music at the undergraduate level. Many students choose to combine music and another field (such as business) by electing the second field as a minor. Students are encouraged to pursue graduate study in one of the scholarly fields within music, such as music theory, music history, arts administration.
Bachelor of Science in Music-Music Industry
The Music Industry concentrarion within the B.S. in Music degree is designed to acquaint students to the concepts and methodologies of the music and entertainment industry. Throughout the course of study students receive instruction in multiple areas including copyright, publishing, distribution, retailing of sheet music, music management, production (music technology), merchandising, and sales of recorded music in all forms.
Bachelor of Science in Music Education (College of Education)
The B.S. in Music Education is administered through the FAMU College of Education. This program prepares students for professional careers as K-12 music educators. Students in the Music Education program study musicianship, core fundamentals and music education methods in the Department of Music.
Source
The Florida A&M University (FAMU) Department of Music offers a limited number of music scholarships to students based on musical skill and knowledge. All students applying for music scholarships must complete a departmental audition and theory placement examination (music majors/minors only) to be considered for funding. Students are eligible to receive music scholarship funding for a maximum of four years. If needed, an accompanist will be provided for on-campus auditions.
Learn More
Want to give to the FAMU Band Programs? Click the link below to send your donation.
Go directly to the source to learn more about Florida A&M University.
Need more information? Head over to the official page.